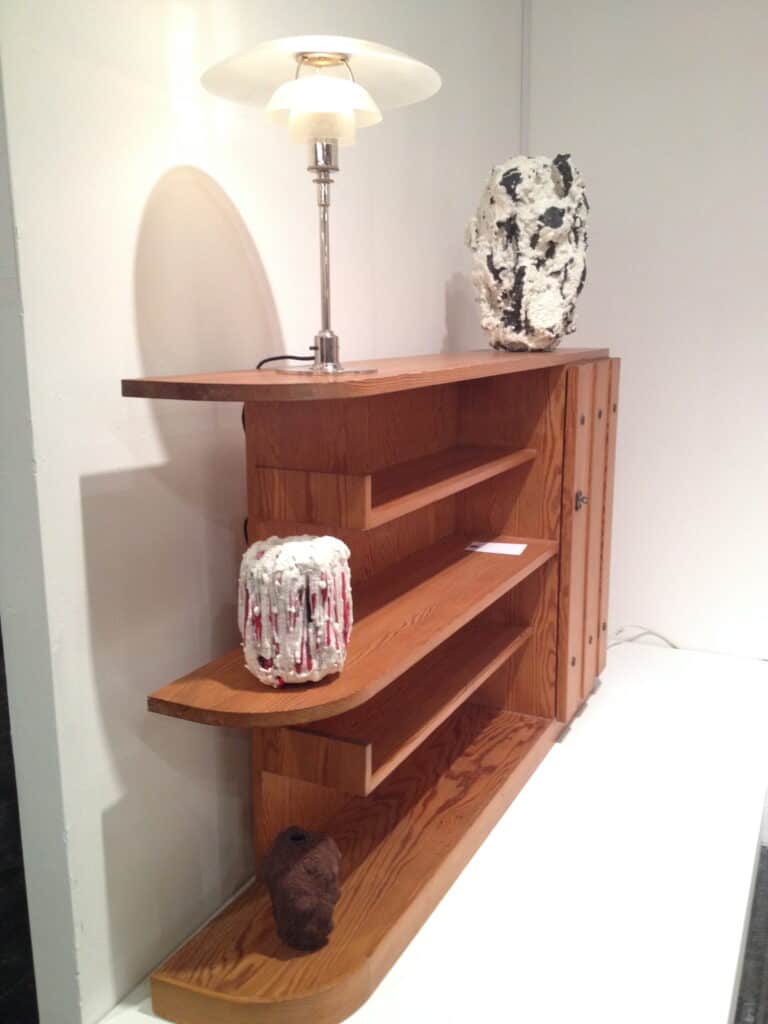 I'm not sure what is happening to design week. It seems to be expanding into Design Month which is OK by me.
This week John and I attended the Collective Design Fair, another Design-Miami-y gallery show, but in NYC. There were many beautiful things on display, but I am officially over the 20th Century, it's time to embrace the century before us, or even today. I was attracted to the accessories as they are much more forward thinking. At Modernity Gallery I was intrigued by the messy ceramics from my friend Per Sundberg (above) and the perfectly lumpy vases by Mårten Medbo (below).
Right across the aisle  R Twentieth Century was showing the work of Thaddeus Wolfe who's blackened, chunky glass pendants caught my attention.
At R we ran into our friends Scott Fellows and Craig Bassam, looking handsome here with John …
… and Gabrielle Shelton and Eric Hoffman. (Sorry about  the slightly out of focus pics, but you pay good money for "sweetening," and I managed it with only a glass of champagne and an iphone.)
… and I marveled at Jeff Zimmerman's ethereal glass vessels. If anyone asks, I want one of these for my 50th!
The Collective is a world class fair, and definitely worth a look if you can drag yourself indoors on this beautiful day (May 11th) the last day of the show.