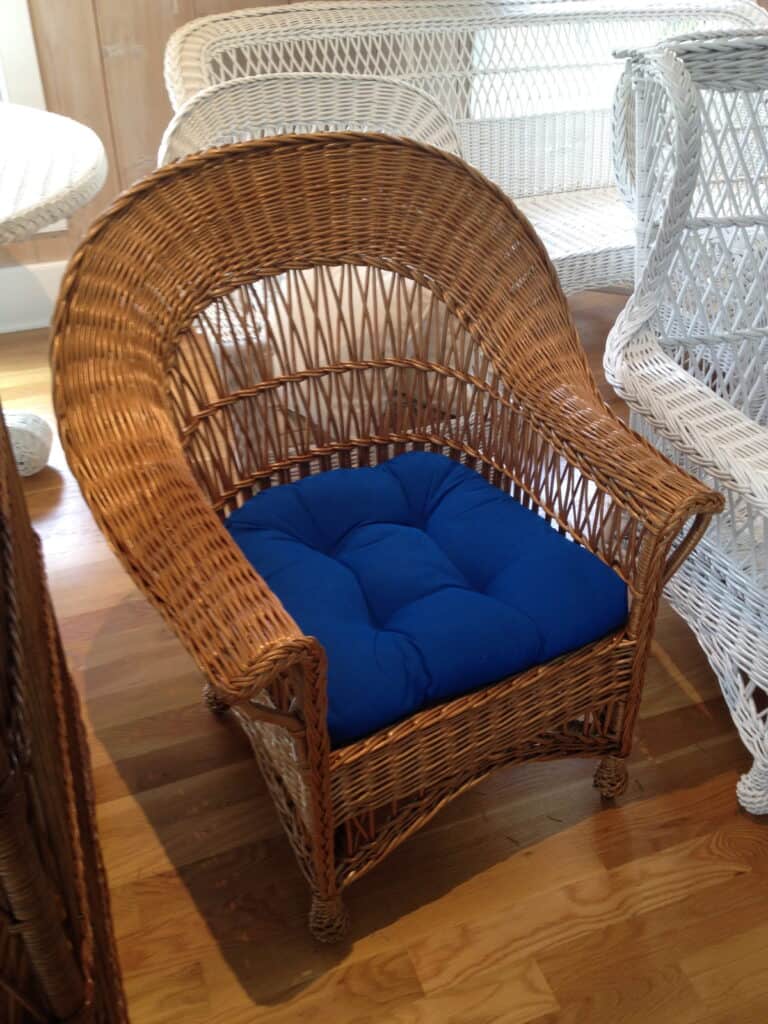 We are just finishing up my mother's summer house on the NJ shore. It has been a long and grueling process getting the house restored after 39″ of Sandy washed through the ground floor but we are now on the fun part of buying a few new things. Mom is not a very contemporary lady, I grew up in a house full of antiques, but we have cleaned up the house substantially from its rag tag former self.
I appreciate collecting, and my mother loves wicker so we started looking around. New wicker is hideously "transitional" or faux-antique, or plastic, or expensive, and I was getting frustrated so I went online and did a little research and discovered Haywood Wakefield antique wicker. Its very beautiful, simple, authentic, and it is actually worth something. I located a source up in Old Saybrook CT called The Wicker Shop. 
Mom and I took a road trip on Monday and it was an education. I love a connoisseur and Pat Walden at the Wicker Shop knows everything there is to know about wicker. 
Ultimately my mother fell in love with this chair which is from an unidentified manufacturer (above), not Haywood Wakefield, but I love the natural willow color. The cushion color will change. Once again, nice lines, huh?
It would be gorgeous paired with some contemporary Moroso woven furniture, but alas I am pretty sure Mom will nix that idea. Maybe I can sneak in one of my new little Woven Stools for Umbra (more later, they launch the week after next at the ICFF!)
In the end, Pat even brought us over to see her three stuffed storage units to possibly find a mismatched pair for our new chair. Pat on the left, Mom on the right.
The whole design process with my mother has at times made me want to shoot her and at other times made me want to shoot myself. Residential interior design is a difficult process – a marriage, very often, of conflicting interests, but on this day Mom bought a beautiful and authentic wicker chair and I met a knowledgeable new resource.